I samarbeid med Turkish Airlines arrangerer vi en spennende studietur til Sri Lanka 20. – 26. september
4 Nights / 5 Days
Arrival: 21 Sep / TK-730 / 1515 HRS
Departure: 25 Sep / TK-731 / 2030 HRS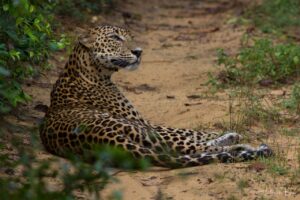 Habarana – Kandy – Bentota. A snapshot of Sri Lanka
The island paradise of Sri Lanka is graced by a tropical climate for most of the year and is occasionally clouded by a seasonal monsoon. A country with a proud history recorded as far back as 500BC, Sri Lanka is populated by a diverse community of Sinhalese, Tamil, Muslim and Burgher citizens with Buddhist, Hindu, Islamic and Christian faiths. 
Truly a beacon of cultural diversity, the Sri Lankan people possess a uniquely hospitable and generous demeanour. Ruled over by colonial Portuguese, Dutch and British forces at some point in time, and descending from very early Indian settlers, the small island nation boasts major cultural influences from across the globe, with countless historical experiences awaiting you at every turn.
21  Sep: "Ayubowan! Welcome to Sri Lanka"
Meals: – – D
Ca 15:15: Arrival, immigration process, meet the guide and transfer to hotel.
Airport – Hotel Travel Distance: 160 km
Approximate traveltime: 3.5 hours
Ca 20:00: Check in and dinner at Cinnamon Lodge.
https://www.cinnamonhotels.com
22  Sep: Sigiriya – Sigiriya Rock – Minneriya National Park – Habarana
Meals: B – D
8:00: After an early breakfast, leave to Sigiriya Rock Fortress.
After an ancient prince killed his father to claim the throne, he was forced to flee to his pleasure palace and convert it into a fortress to guard against his opposition. The spectacular citadel of Sigiriya built on a giantrock rises sheer and impregnable out of the plains below. This remarkable 5th century archaeological site is made unforgettable by its dramatic setting. A moat, rampart, extensive gardens including the renowned watergardens ring the base of the rock and the frescoes of the 'Heavenly Maidens' of Sigiriya. Note: Please note that to reach the top of Sigiriya Rock, there are nearly 1,200 stone steps up and then down. Anybody in reasonably good condition will be able to venture to the top of Sigiriya Rock and it's certainly worth the effort.
Ca 13:00: Lunch at local restaurant (not included)
Ca 14:30: Afternoon transfer to Minneriya & commence a jeep safari in Minneriya National Park.
Minneriya National Park is a national park in North Central Province of Sri Lanka. The area was designated asa national park on 12 August 1997, having been originally declared as a wildlife sanctuary in 1938. The reason for declaring the area as protected is to protect the catchment of Minneriya tank and the wildlife of the surrounding area. The tank is of historical importance, having been built by King Mahasen in third century AD. The park is a dry season feeding ground for the elephant population dwelling in forests of Matale, Polonnaruwa, and Trincomalee districts.
Overnight stay and dinner at Jetwing Lake, Dambulla.
https://www.jetwinghotels.com/jetwinglake/#gref
23 Sep: Habarana– Matale – Kandy
Meals: B–L-D
8:00: Breakfast and leave for Kandy. En route the group will visit a Spice Garden in Matale.
Habarana – Matale Travel Distance: 70 km
Approximate travel time: 2 hours
Visit the garden of spices is not to be missed because you will discover all the local varieties such as peppers, cardamom, nutmeg, cloves, among others! You can also enjoy a tasting of spice tea and discover through the wise comments of your guide all the therapeutic virtues of each plant.
Ca 12:30: Lunch at Matale Spice Garden. Ca 13:30 – Continue by bus to Kandy.
Matale – Kandy Travel Distance: 25 km
Approximate traveltime: 1 hour
Visit the Temple of the tooth relic and enjoy a brief tour of the beautiful Kandy town. 
Temple of Tooth – Last ruled by King Sri Wickram Rajasinghe – before it was brought under the British rule in1815, Kandy – the World Heritage Site & last royal capital of Sri Lankan kings – crafts an array of culture, history and heritage in the minds of visitors across the globe. Experience an ancient Kandyan legacy engraved around its crown jewel, the temple of the sacred tooth relic of Lord Buddha.
Program duration: Temple of the Sacred Tooth Relic 1 hour.
Ca 16:00: Transfer to Hotel Cinnamon Citadel. Checkin and dinner.
https://www.cinnamonhotels.com/cinnamoncitadelkandy
24  Sep: Kandy – Beruwala
Meals: B – D
8:30: Breakfast at the hotel and time to relax and enjoy the facilities. Ca 12:00 Check out and proceed to Beruwala.
Kandy to Beruwala Travel Distance: 180 km
Approximate travel time: 3 hours & 45 Minutes
Ca 12:30: Lunch at a local restaurant on the way (not included). Upon completion, transfer to Cinnamon Beruwala Hotel.
Ca 16:30: Check in and dinner at Cinnamon Beruwala Hotel
https://www.cinnamonhotels.com/cinnamonbeyberuwala
25  Sep: Beruwala – Airport
Meals: B L D
Breakfast and morning at leisure.
Afternoon lunch with site inspection tour at Bentota. Eveningdinner with site inspection tour of Negambo Hotel.
Beruwala – Airport Travel Distance: 100 km
Approximate travel time: 2 hours 
Flight details:
TK1754 20SEP OSL IST 1845 2335
TK 730 21SEP IST CMB 0155 1515
TK 731 25SEP CMB IST 2030 0510
TK1751 26SEP IST OSL 0810 1105
International flights with TK (OW economy / OW business). Accommodation in single room.
Program including entrances and meals as described in the program.
Påmeldingsfrist: 1. juni.
Egenandel for turen er satt til kr 6.200. Denne dekker kostnader med fly, transport og mat underveis (som beskrevet i programmet).
Send en mail til post@pata.no om du er interessert i å søke om plass, så sender vi deg søknadsskjema.